Last year, the implementation of the national real estate macro-control policy has a greater impact on furniture sales. In order to promote sales, the home in Beijing Wumen Store has implemented furniture "for the old" in September last year, discounting 5% of the transaction price for consumers buying new furniture Deduction. As of now, the "trade-in" business of the actual home has been implemented for half a year, and what achievements have been made? How big is the investment? Let us read through the following figures.
September 10, 2011
Actually debuted the furniture "trade-in"
Furniture "replace old with new" is a convenient activity launched by the actual home on September 10, 2011. The purpose is to help consumers deal with the old furniture in their homes and encourage consumers to buy new furniture. The event ends on October 10. Because of the one-month furniture "trade-in" activities and sales led by the National Day holiday, the sales and sales driven by it almost showed a spurt. On November 4, 2011, Juran Home announced that it will start the "trade-in" campaign again, and decided that the "trade-in" campaign will be transformed from a promotional activity to a service initiative. It will also be promoted in stores in the country in 2012.
120 million yuan
Half-year sales of furniture trade-in
As of February 19, 2012, there were a total of 10,279 signings of "home-for-new" furniture in the Beijing area of ​​furniture, with sales of nearly 120 million yuan, accounting for about 10% of overall furniture sales. With the in-depth development of the activity, from January 1 to February 19, 2012, the sales of participating in the "trade-in" campaign accounted for 18% of the total furniture sales in the same period.
5.834 million yuan
Consumer allowances
A total of 5,658 pieces of old furniture have been recovered from the warehouse, and a total of 9,577 pieces of furniture have been recovered. A subsidy of 5.834 million yuan should be issued, and a subsidy of 2.584 million yuan has been issued.
10000 square meters
Storage area for storing old furniture
At present, the difficulty of furniture trade-in is the disposal of old furniture. Previously, after the old furniture was uniformly stored in the warehouse, it was regularly packed and cleaned (has been cleaned 8 times). Recently, the house actually rented a storage center with a construction area of ​​10,000 square meters in North Sixth Ring Road. It is necessary to formally establish a recycling center for old furniture. It is planned to be put into operation in the middle and late March to store the recycled old furniture and arrange special personnel Responsible for management and effectively solve the consumer's old furniture handling problems.
35 million yuan
Jinyuan Store implemented best
Judging from the signing of the "Fashion-for-New" business of furniture in Beijing No. 5 Store, the effect of Lize Store and Jinyuan Store is remarkable, with the turnover accounting for the highest proportion of overall furniture sales, 14.3% and 12.1% respectively; North Fourth Ring Road The stores and Jinyuan stores achieved the most sales, and the two stores together accounted for 58.3% of the total transaction value of the five stores in Beijing.
3598 pens
The most replaced panel furniture
Since the "Home-for-New" of furniture was launched at Home, as of February 19, the brands that achieved sales in the "For-Old" activity accounted for nearly 90% of all furniture brands in Beijing stores. Panel, solid wood, and soft furniture are more effective.
ABS Woodgrain Color Edge Banding:
1.Adopt quality ABS resin raw material, imported UV and ink. 2. ABS Wood Grain Edge Banding have matt+high gloss+emboss finish surface. 3.Customize size and color-more than 2000 Wood Color Edge Banding be produced.Size range 0.35-3.0mm thick and 12-620mm width. Above 98% matching to customer`s standard panel. 4.Eleven years ABS Edge Banding manufacture experience. 5.Strict quality control system and well after-sales service are promised:strict test during every step of ABS edge banding produce. 6.Won high praise from cooperated customers 7. We promise to only offer high quality edge banding.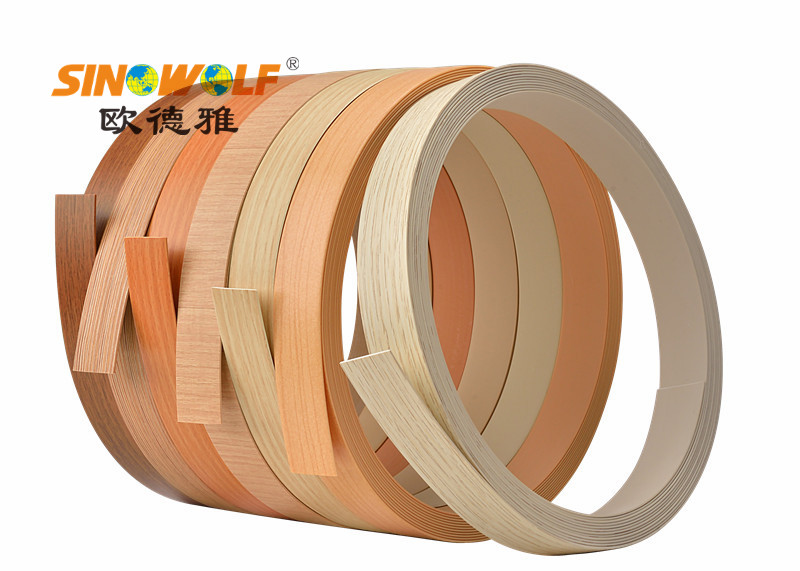 ABS Woodgrain Color Edge Banding
ABS Woodgrain Color Edge Banding,Wood Grain ABS Edge Banding,ABS Edge Banding wood color,3mm ABS Wood Grain Edge Banding,China ABS edge banding manufacturer, ABS edge banding factory
Sinowolf Plastic Dekor Co., Ltd , http://www.sinowolfdekor.com