Qingdao Oline Storage equipment Co.Ltd was established in 2005, a manufacturer of developing,producing,and marketing storage logistic products and industrial equipment  by ourselves.The main products are storage cages, which are used in warehouse of many industries, such as household electrical appliances, automobiles and components, electronics, hardware, machinery, casting, food and so no so forth. Our products are exporting to Euro-america, South-america, Australia Japan,Korea. 
 
Diamension (mm)
model
wire diameter (mm)
wire mesh (mm)
load (kg)
cubage (L)
800*500*840
A-1
6.0Â 
50*50
500
0.15
B-1
6.0Â 
50*100
300
800*600*640
QA-3
5.0Â 
50*50
500
0.22
A-3
6.0Â 
700
NA-3
6.4Â 
800
QB-3
5.0Â 
50*100
300
B-3
6.0Â 
500
NB-3
6.4Â 
600
C-3
6.0Â 
100*100
300
1000*800*840
QA-5
5.0Â 
50*50
800
0.52
A-5
6.0Â 
1200
NA-5
6.4Â 
1500
QB-5
5.0Â 
50*100
500
B-5
6.0Â 
800
NB-5
6.4Â 
1000
C-5
6.0Â 
100*100
500
1100*1000*890
QA-6
5.0Â 
50*50
800
0.75
A-6
6.0Â 
1200
NA-6
6.4Â 
1500
QB-6
5.0Â 
50*100
500
B-6
6.0Â 
800
NB-6
6.4Â 
1000
C-6
6.0Â 
100*100
500
1200*1000*890
QA-7
5.0Â 
50*50
1000
0.84
A-7
6.0Â 
1500
NA-7
6.4Â 
2000
QB-7
5.0Â 
50*100
500
B-7
6.0Â 
800
NB-7
6.4Â 
1000
C-7
6.0Â 
100*100
500
Emily Ju
Qingdao Oline Storage Equipment Co.,ltd
Add:Yangqing RD,Jiangshan Industrial Park,Laixi,Qingdao ,China
Tel:0086Â 532Â 86462396
Fax:0086Â 532Â 86462397
Mobile: +86 13070856018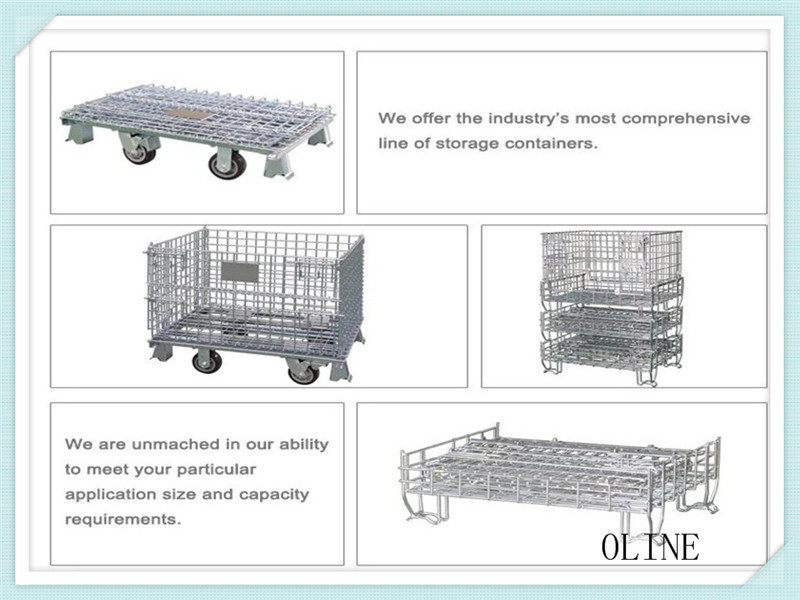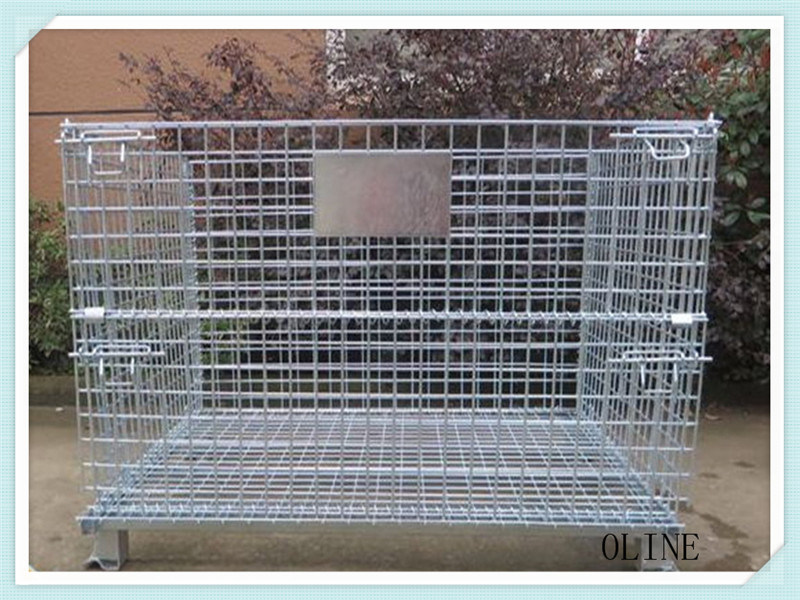 Features
1. Storage cage/Wire container is made of strong steel, welded with U channel steel at the bottom to guarantee the load capacity;
2. Surface treatment:Â Galvanization; Bright and clean, corrosion resistance, long service life;
3. Wire container use bolt structure, providing easy access to product even when they are stacked;
4. Stackable: Wire container can be stacked to 2-3 layers, achieve three-dimensional storage; When not used, wire container can be collapsed and piled to save space;
5. With united specification and fixed capacity, it's convenient for identification of goods and inventory Count;
6. Casters can be equipped to make it convenient to move;
7. Cardboard or Wantong board can be equipped in the wire container to protect the surface of goods during storage and transportation;
8. Worked with hydraulic trucks, forklifts, elevators and other handling equipments, simple operation
9. Euro-style wire container is widely used in transportation, loading & unloading, storage and other logistics links, low cost and high efficiency.
The storage cages of different size, wire diameter and grid size can be made according to your requirements,OEM.
Advantages
1.  High quality steel hardened by cold-welded, high-strength, high load capacity.
2.  Unified specification, fixed capacity, easy to stock inventory.
3.  Adopt international standards, support the use of container, effectively improve space utilization.
4.  It can be stacked four high with each other, to achieve three-dimensional storage.
5.  Galvanized surface treatment, do not pollute the environment.
6.  Folding structure, low cost recovery, is an alternative to wooden crates.
7.  Can install casters at the bottom, extremely convenient to move.
 
Twist Drill Bits Set,Twist Drill Bit,Twist Drill,Hss Twist Drill Bit Set
Jiangsu Kidea Industry Co., Ltd. , https://www.jskidea.com